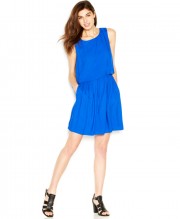 Yadox knows how a woman's simple question "What do I wear today?" and her wardrobe can influence the mood. And Yadox's goal is to create a perfect wardrobe for every woman, to bring them confidence and joy every time they go out somewhere.
Miami, USA, June 25, 2015 (Newswire.com) - Many women 'mix' their clothes with one another in order to create fascinating looks. But what do the women who are just starting out to explore the wonderful world of their own wardrobe do? Well, they need to experiment more!
It's commonly believed that monotonous clothes with minimum décor are flexible in terms of fashion and that many looks can be created with them. However, it's not about clothes being monotonous, it's about the model of clothing. Take a floor-length floral dress as an example. To make it truly 'flexible', it has to be:
Buy Now or Cry Later! :)
sleeveless
with an oval or a not too deep neck hole so that a blouse could easily be hidden under it
with a detachable belt
with a zipper or buttons along the dress (such a dress can be easily worn as a cape)
with a skirt of any model without any sharp

décor

elements
Yadox presents a few ways of wearing such a dress:
Dress is an independent element of the wardrobe, it can be worn only combined with shoes and a handbag
Wear a cardigan on top of the dress. Or a jacket or a light coat of bright or neutral shades
Use the dress as a skirt by wearing a short top, warm sweater, shirt or blouse on top of it.
Be Unique, Be Fashionable, Be Yadox.
Share: